WHY CHOOSE wireless posture-correcting bra?
This amazing posture-correcting bra supports your back with its criss-cross double-layered SENIORSBRA design. It keeps your back straight but allows you to move freely. Its wireless, wide under-bust band provides support and comfort. Contour cups are made from double-layered that support your bust, providing good coverage and a nice shape. SENIORSBRA firmly compresses underarms and back to smooth bra bulges. The wide, soft, adjustable straps of this bra reduce your bust's weight to relieve shoulder stress.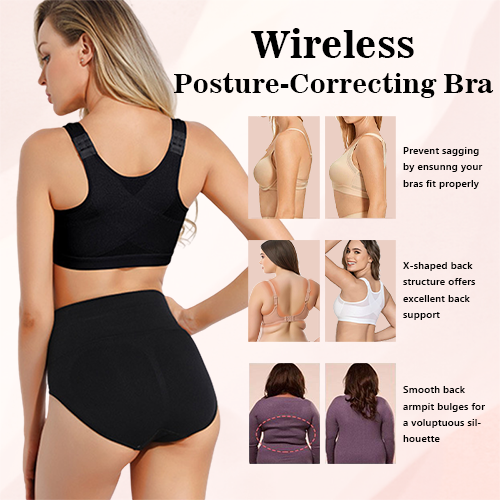 "My Bra is the little indulgence, I LOVE this bra! It is sooo comfortable and supportive . . . I love the way it is extra adjustable in the straps and in the front. I used to be so relieved to take 'normal' bras off.

DESIGNED FOR SENIORS
These are soft, wide, padded, and 3-level adjustable, Criss-cross bands which provide back support and all-day protection.
2-level, 6-row adjustable front hook-and-eye closure for easy wear and a great fit.
Perfect chest shape
We've been specializing in lingerie for over a decade, and this product took us 3 years to develop. Why do you waste time and money on something that's great to gather but is too tight or comfortable but no gethering? With the SENIORSBRA, your bust will stay in perfect shape and have no more restraint. Against sagging and comfort, one product is enough.