Description
HYAKUON is a revolutionary cream designed to help reduce the appearance of dark circles around the eyes. Our cream is formulated with top-quality ingredients, including Hyaluronic Acid and Ahnfeltia Concinna Extract, to ensure that our customers receive the best possible results.
Our cream is specially designed to provide top results in a short time, ensuring that dark circles are quickly reduced and eliminated. Our cream is proven to be effective and is currently?the number one brand in the USA.
Key Ingredients:
Hyaluronic Acid: A powerful hydrating ingredient that helps to improve skin texture and elasticity.
Ahnfeltia Concinna Extract: A natural ingredient that helps to reduce inflammation and improve circulation, reducing the appearance of dark circles.
NMN: An anti-aging ingredient that helps to promote youthful skin.
Caffeine: A key ingredient that helps to reduce puffiness and improve circulation.
Benefits:
Reduces the appearance of dark circles.
Improves skin texture and elasticity.
Helps to reduce inflammation and improve circulation.
Promotes youthful skin.
Reduces puffiness and improves circulation. let our customers convince you
Clinically proven visibly lifts up eyes and remove dark circle in just 8 weeks!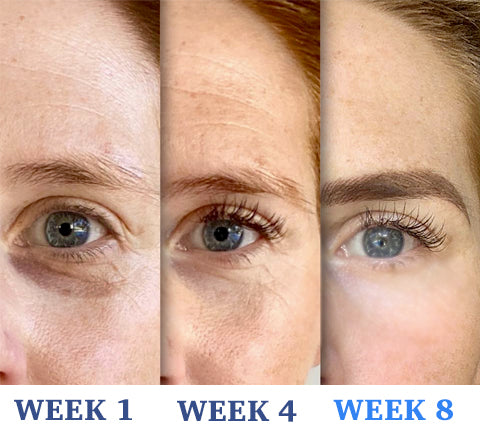 "I am really impressed with HYAKUON – Hydro Pro!??I am?41 with heavy wrinkles under my eye?that I hate. This has already made a visible difference. I use this every night after washing my face and before putting on my normal moisturizer. I did loads of research and found this?HHYAKUON – Hydro Pro?to be continually in the top few best products. It is totally affordable as well. I will be using this for a long, long time." Shawna Stone
Boston, United States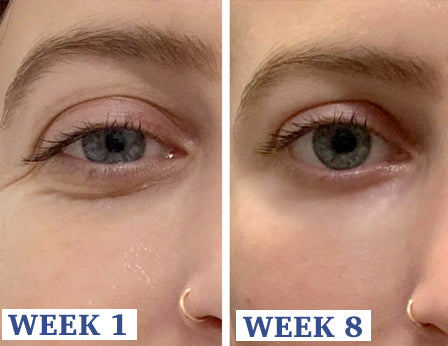 "I have been using HYAKUON – Hydro Pro for about 2 months now and have found the results really good. This eye cream is ever so soothing , and really does plump up sunken areas, relieves lines, feels great on puffy lids, stressed skin. It is very rich compared to some cream that are seemed to be runny, and watery. I find my under-eyes are brightened now and I really wish I had found this so much earlier! Thanks to HYAKUON?!
Ann Mullins
New York, United States
understand the ingredients!
Dr Sabine Wegen is a dermatologist and dermatology specialist who has been in the industry for more than 10 years. She is known for her skin health skills and her approach to creating and maintaining the most natural looking skin possible using the most advanced cosmetic treatments and dermatological techniques. Endorsed in the use of HYAKUON – Hydro Pro as one of the best products for dark circles and puffy eyelids.
Consist of 2?Key Ingredients For Reduce Under-Eye Bags, Wrinkles, Dark Circles: 1.Nicotinamide Mononucleotide (NMN)
2.?Hyaluronic Acid?

The newest anti-aging ingredients – Nicotinamide Mononucleotide (NMN). It's the main sources of cellular energy in the human body. Studies have demonstrated that boosting NAD+ synthesis in the body beneficial way to effectively slow down and reverse skin aging and other adverse effects of UV radiation on the skin. HYAKUON – Hydro Pro contains an unprecedented purity level of 98% (other NMN product won't disclose their purity levels) directly reaching and affecting the skin, giving it a more youthful look and feel. For using HYAKUON – Hydro Pro over 8 weeks, it can help to tightening the skin around eyes effectively.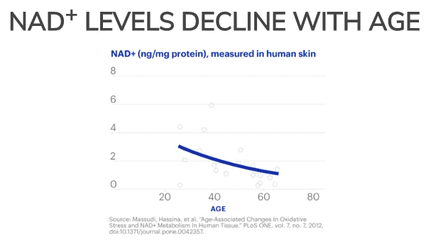 Dr. Jones said this is why this eye cream is so effective. It was one of the few products on the market that had?Nicotinamide Mononucleotide(NMN) in the right consistency and dosage.

Hyaluronic Acid (HA), a potent hydration-attracting molecule naturally found in the skin. As we age, our skins hyaluronic acid production decreases, causing dehydration, fine lines & crows feet wrinkles. Many products have used HA to claim hydration benefits, but HA is too large of a molecule to penetrate the skin and instead sits on the surface and can draw moisture out of the skin making the surface feel soft and hydrated temporarily, while making you feel like you need more HA after the product is rinsed.
HYAKUON – Hydro Pro formula uses three forms of HA with varying molecular weights, as well as an HA crosspolymer, to offer multi-depth hydration and visible plumping without drawing water out of the skin solely to improve temporary surface hydration.
What makes HYAKUON – Hydro Pro Special
Reduce Appearance of Fine lines & Wrinkles
Reduces puffiness and dark circles
Plumping up & smooth Skin?
Instantly replenishing and calming
5X more Collagen?Strengthening than other similar products
Effective Brightening & Tightening
Repairing & Moisturising at the same time
Claire's 8 Weeks Eyes-Depuff Report: Claire is a 59 year grandma of 2 from Denver. Like most women her age, the years have started to give her unwanted lines and wrinkles. Claire said she decided to trial HYAKUON – Hydro Pro?because she was so frustrated that nothing else has produced results. She was even considered a highly risky and very expensive?eye-lift procedure. HYAKUON – Hydro Pro was somewhat of a last resort for her. Week 1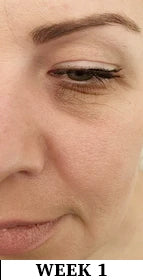 "After the first week of using HYAKUON, I was surprised at how wonderful it made my skin feel. Incredible product as it has waken up my eyes area. I don?t know how else to describe it! I could feel a fresh around my eyes. Makes them a little less noticeable in the first week!."  Week 4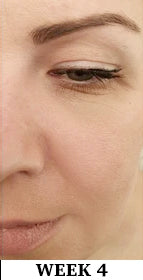 "After?4 weeks of using?HYAKUON, I was shocked at the dramatic results.
The lines, dark circles, and wrinkles – without question – were visibly reduced in size right before my eyes!
I was astonished by the results, and literally felt 10 years younger again. It was like watching all my wrinkles vanish right off!"
Week 8
"After 8 weeks, not only had all my doubts and skepticism absolutely vanished – SO DID MY WRINKLES AND DARK CIRCLES AROUND MY EYES! If you can only afford 1 skincare product, this is the one you want!??My eyes don't just look brighter and less puffy, they now FEEL brighter, more open and above all, tighter. This serum is like a good night's sleep in a jar. I can't go back after using this. !
Claire Flores
Denver, United States
Before and after picture of Dora Rodgers. The picture on the right was taken after 2 months of using HYAKUON: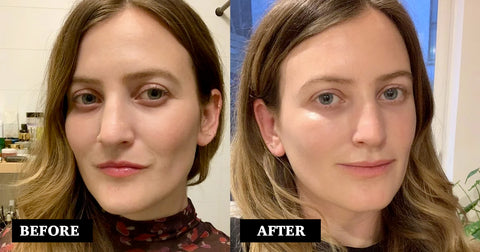 How To Use:
Apply onto clean, dry under-eye area.?Use it daily for the best result.
Gently pat remaining cream into skin.?For external use only.
Net content: 60g
Shelf life: 3 Years