"After using it for a couple of weeks, I can say that it is 100% worth every penny. I am so thankful my knees can finally get some lasting relief."
– Karly S.
Verified Buyer
Knee pain can strike anyone, from older adults with arthritis to physically active individuals who engage in high-impact activities such as running or jumping. Regardless of age or lifestyle, knee discomfort can interfere with daily activities and limit mobility. The resulting discomfort and limited mobility can lead to frustration and reduced quality of life. Millions of individuals worldwide suffer from this debilitating condition, underscoring the need for effective solutions that can help manage the symptoms and restore mobility.
Introducing the LUMINOVA Knee Massager, a cutting-edge device designed to alleviate knee pain and discomfort while improving overall mobility. This innovative device features advanced functions such as vibration massage, laser physiotherapy, infrared physiotherapy, and warm moxibustion and hot compress, providing a comprehensive solution to knee-related problems. Whether you are an older adult experiencing arthritis or a fitness enthusiast suffering from knee injuries, the LUMINOVA Knee Massager is designed to help you manage your knee discomfort and maintain a healthy, active lifestyle.

REASONS WHY OUR LUMINOVA KNEE MASSAGER WILL CHANGE YOUR LIFE
Comprehensive Knee Pain Relief: The LUMINOVA Knee Massager offers a comprehensive solution to knee pain by providing four functions of vibration massage, laser physiotherapy, infrared physiotherapy, and warm moxibustion and hot compress. This multipurpose device targets knee discomfort in all directions and offers a thorough and effective therapy session.

Dual Infrared Therapy: The LUMINOVA Knee Massager features two different frequencies of infrared light therapy that penetrate deep into the knee joint to effectively relieve pain and inflammation. With a wavelength of 650nm and 850nm, this dual infrared therapy promotes circulation, reduces swelling, and accelerates the healing process. This advanced technology offers a targeted and effective solution to knee discomfort.
Advanced Heating Technology: With its rapid heating carbon fiber hot compress, the LUMINOVA Knee Massager can quickly warm up the knee and provide relief from pain and discomfort. It also comes with a three-speed temperature adjustment, allowing users to choose between 40℃-42℃-45℃ to keep the knees away from dampness and cold.
Multi-Functional Usage: The LUMINOVA Knee Massager is not just designed for knees, but it can also be used for shoulders, arms, and other areas. This makes it a versatile device that can be used to provide relief to multiple parts of the body.
User-Friendly Design: The LUMINOVA Knee Massager comes with a white light LED touch screen that clearly displays the massage status in real-time. It also has a one-key start function, making it easy and convenient to operate. Plus, its built-in 3000mAh high-capacity rechargeable lithium battery can be fully charged in just 2-3 hours and provide a continuous use of 90-120 minutes.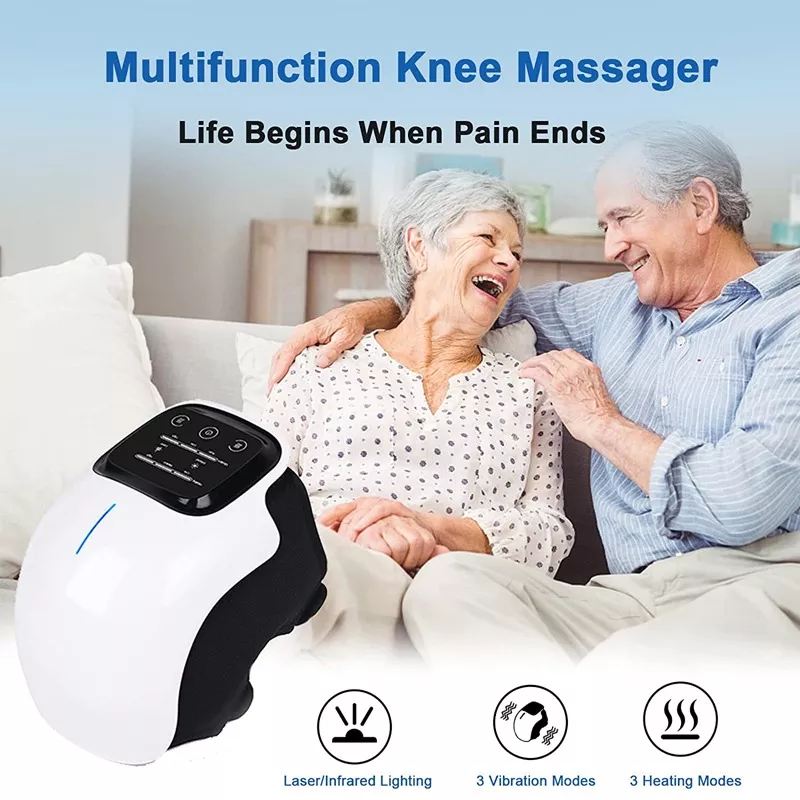 At LUMINOVA, we understand the challenges faced by those experiencing knee discomfort. It can be a frustrating and debilitating condition that interferes with daily activities and decreases the quality of life. We empathize with those suffering from knee pain and are committed to providing solutions that alleviate their discomfort and improve their mobility.
Say goodbye to knee pain and hello to an active and fulfilling lifestyle with the LUMINOVA Knee Massager. This device is a game-changer that can transform the way you live and move. Don't let knee discomfort hold you back from achieving your goals and dreams. Take charge of your life today with our LUMINOVA Knee Massager and start experiencing the relief and mobility it provides.
PRODUCT SPECIFICATIONS
Color: Black and White
Rated voltage: 3.7V
Input voltage: DC5V 1.2A
Power: 10W
Packing size: 27.6*16.2*20.5cm

A LUMINCURE PROMISE
At Lumin Cure, we believe in the quality of our products therefore we offer a 15 Day Money Back Guarantee with no questions asked! When you purchase from us, there is ZERO Risk for you!
CUSTOMER SUPPORT
Email: [email protected]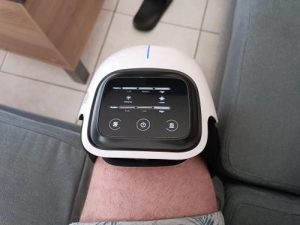 I am so grateful I found this knee massager. I have been suffering with chronic knee pain for years and this is has been a huge help. After using it j
...More
I am so grateful I found this knee massager. I have been suffering with chronic knee pain for years and this is has been a huge help. After using it just a few times I have felt tons better and my knees feel less stiff and achy. It has 3 massage and vibration modes, infrared, and laser light therapy. It pretty much as everything you need, I think it is definitely worth every penny. I am happy I found this