Fun Tracing Workbook for Young Minds​
Are you looking for a fun and educational activity to keep your kids engaged? Look no further! Our interactive tracing workbook is the perfect solution. With its colorful pages and interactive exercises, your kids will have a blast while developing their fine motor skills and learning to trace letters, numbers, and shapes. Say goodbye to boring worksheets and hello to interactive tracing fun!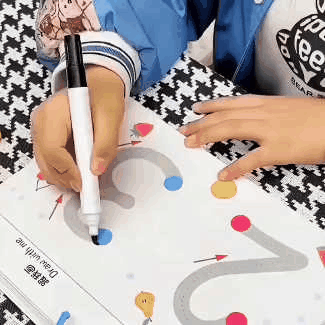 How To Use

Step 1:
With a wide range of exercises and activities, there's something for every skill level. Choose the one that best suits your child's needs and interests.
Step 2:
Gather all the materials you'll need, such as a pencil or marker, and find a comfortable and well-lit workspace.
Step 3:
Have your child follow the lines on the page, starting with the thick lines and working their way up to the thin lines. Encourage them to take their time and stay focused.
Unlock Your Child's Writing Potential!​
Having trouble with your handwriting? Our Fine Motor Skills Development service is here to help! With targeted exercises designed specifically to improve your handwriting, we'll have you writing like a pro in no time. Say goodbye to messy handwriting and hello to beautifully written notes and letters!