Description
" I can't say enough how much I love this product! I've always hated using a stone in the shower, and creams at night just don't fully do the trick. When you can't get to the salon for a pedicure, or you don't go, this little tool is amazing! It takes just enough of the roughness (using the option of two attachments). It leaves your foot smooth and soft, and the light is a bonus touch that actually comes in handy! With summer coming up, and me just returning from an early beach trip that I had a chance to test it out, I can not recommend this enough!" – Karen – Verified Buyer
Using an old method of foot scrub with a pumice stone is not only a terrible idea but also dangerous since it can cause harm to the heels and foot skin. It causes discomfort and painful feet, affecting the wearing of shoes and walking confidently in daily life. The results of having cracked heels for a long time can lead to disappointment, frustration, and shame.
Introducing the Radzhi, a pedicure with 2 roller heads for polishing and smoothing stubborn calluses and dead skin. Radzhi offers youthful and healthy feet through gentle and painless exfoliation to remove dead skin cells and promote softness. Experience the joy of having smooth, soft feet to enhance self-esteem.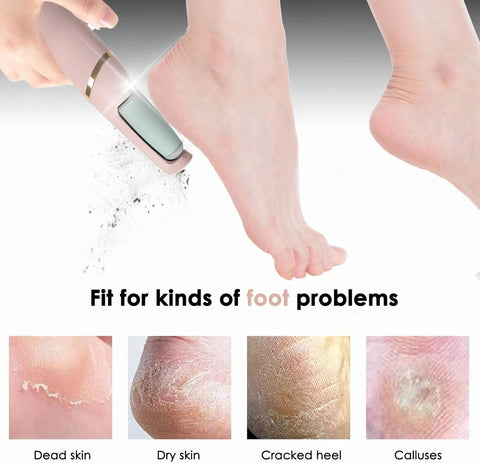 REASONS WHY RADZHI WILL CHANGE YOUR LIFE
ADJUSTABLE SPEEDS: The Radzhi has low and high-speed massaging for customized and precise treatment. Therefore, the pedicure ensures maximum comfort and easiness in making skin silky.
LAMP FLASHLIGHT: LED lights are used in the pedicure to allow a clear view of the dry feet. As a result, Radzhi illuminates the targeted area to effectively remove calluses and rough skin with improved accuracy and safety.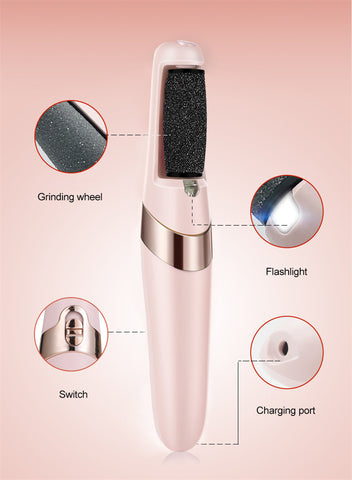 EASY TO CARRY: The Radzhi is small and lightweight, ensuring on-the-go foot care. Therefore, the callus remover makes it easy to give exquisite foot care anytime and anywhere with comfort. SIMPLE TO CLEAN: The grinding head is easy to remove and clean quickly with soap and water. Therefore, Radzhi requires little effort and time to become clean and germ-free.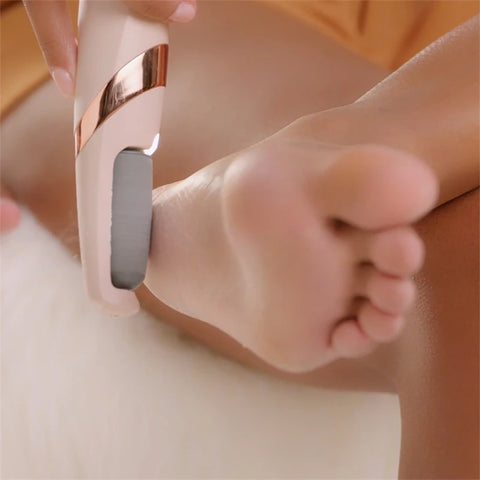 We understand how self-conscious we can be when we are not 100% comfortable with our foot appearance. It is stressful to notice scaly feet in an open-heeled shoe during an event and face embarrassment. A recent survey by the College of Podiatry found that 45% of women suffer from painful cracked heels, resulting in 10% refusing to wear open-toed shoes.
With the Radzhi, take a deep breath and sigh with relief to no longer face issues with cracked and uncomfortable feet. The Radzhi makes feet smooth and silky while instantly clearing calluses and dead skin cells. Enjoy newfound confidence with a salon-quality pedicure that gives rejuvenated feet skin to boost confidence and comfort.