"This diffuser is prettier in real life than in its pictures! When it's lit up at night it's STUNNINGLY BEAUTIFUL and the smell it emits is awesome! I would highly recommend!"
✅ Verified Buyer
Creating a calming space that feels inviting requires warm, relaxing lighting. Unfortunately, traditional light sources are too bright and candles can be dangerous if forgotten and left on around pets. This results in frustration as traditional lighting will make a room feel lack luster, ruining the vibe and candles can cause a lot of damage if knocked over.
Skyline Volcano Diffuser's Updated 2023 Variant produces a volcano-like mist that uniquely illuminates every room creating a welcoming feel. With its pet safe light feature and aromatherapy, Skyline Volcano Diffuser makes it easy to improve the vibe of every space without the danger of an actual flame. With improved atmosphere, a room will feel both inviting and relaxing, enhancing the vibe!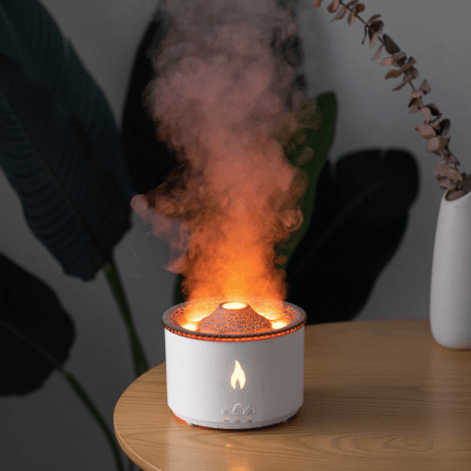 REASONS WHY THE SKYLINE VOLCANO DIFFUSER WILL CHANGE YOUR LIFE:
✅ QUALITY CRAFTSMANSHIP: Skyline Volcano Diffuser is made of quality materials which means this little light will last years to come. Have peace of mind knowing this essential oil light offers long lasting value.
✅ PET SAFE: No-flame design allows curious pets to inspect Skyline Volcano Diffuser freely without injury. Enjoy relaxing after a long day, knowing furry loved ones are safe.
✅ AUTOMATIC SLEEP TIMER: A power down preset offers peace of mind when falling asleep. With Skyline Diffuser turning itself off, it is easy to enjoy a more restful sleep.
✅ MAKES BEDTIME RELAXING: Illuminate any room or space with a unique flame effect which makes coming to bed more enjoyable. Such a fascinating light results in more time spent in the bedroom with Skyline Volcano Diffuser.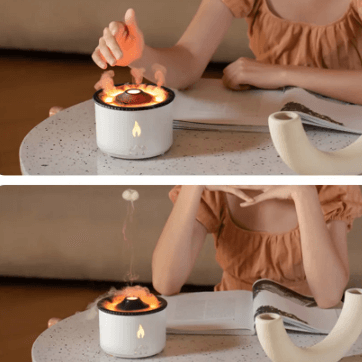 ✅ CALMING AROMATHERAPY: Easily apply a couple drops of any essential oil, creating a wonderful aroma. Appreciate the calming effects and endless scent opportunities with Skyline Volcano Diffuser.
✅ GREAT GIFT: Skyline Volcano Diffuser appeals to such a wide audience, it is easily gifted to anyone at any age. Enjoy gifting something really unique, that has not been witnessed before.
HOW TO USE:
Easily change between tall and short diffuse functions using the buttons on Skyline Volcano Diffuser, or with the remote. Auto-off and two color options can be adjusted using the included remote or by clicking the buttons on the diffuser itself.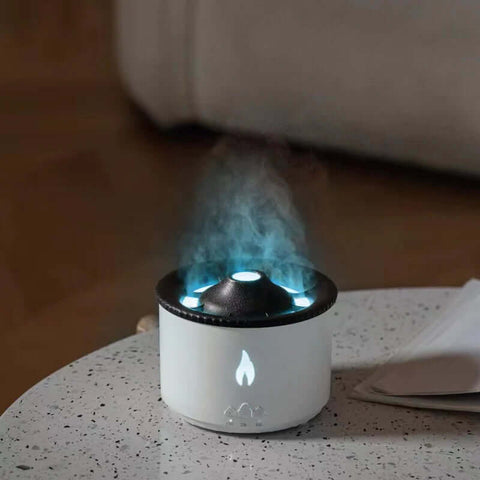 We understand how difficult it can be to create warm ambiance without proper lighting. It is frustrating to use overhead lights as they are too bright and candles can easily cause damage to the home if improperly used or forgotten around pets. A recent study found, over 23,000 house fires a year, are due to candles!
Rest assured, Skyline Volcano Diffuser offers a unique and easy way to help improve a rooms feel while also keeping pets safe. Enjoy the improvement in atmosphere due to Skyline Volcano Diffusers eye catching illumination and two wonderful color options. Now, with fire-less Skyline Volcano Diffuser, you can enjoy a relaxing oasis right at home!
A Sunny Skyline Promise
At Sunny Skyline we believe in the quality of our products, therefore we offer a 30 Day Money Back Guarantee with no questions asked! When you purchase from us there is ZERO Risk for you!
Congratulations!
You've found a hidden discount code! Use code "
SUNNY
" at checkout to receive an additional 10% OFF your ENTIRE order!