Instant Relief From Nasty Back Pain! Other Tools Just Don't Compete! [Don't Miss Out! Last Restock Sold Out In Only 2 Hours!]
There's no worse way to start of the day than struggling to get out of bed because of a bad back! Look no further than our chiropractor approved back massage pad! Loaded with 3 levels of adjustment, this amazing pad targets your bodies acupoints have your tight back, more loose and ready for your busy day. Our back massaging pad is made from high-grade ABS plastic, making it light-weight, durable, and easy to travel with. It's curvature design aligns perfectly with your ideal spine position making you feel looser than ever. Simply lie down with your back against the pad and stretch out. After the chorus of cracks our chiropractor approved massage pad will have you feeling brand-new and ready to dominate the day!
Key Benefits
Instant relieffrom troublesome back pain
Restore your posture and appear more attractive
4 Adjustable Levels from Beginner to Expert
Beginner friendly and easy to use
40 ridges built to hit tough to reach joints with ease
Enjoy everyday life pain free!
SCROLL TO BOTTOM TO SEE REVIEWS
Our 4 adjustable levels are purposefully designed to increase in intensity. Level 4 being the most extreme, providing instant relief and eliminate stubborn and annoying tightness.
HealthNProsper's Back Massage Pad is not sold in stores. Order yours today exclusively from us.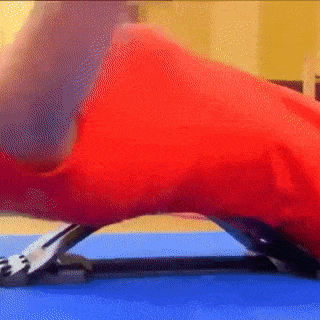 98% Of Our Customers Have Recommended Our Back Massage Pad To A Friend!