Description
Transform Bathtime into an Ocean Adventure with SplashFriends! Delight your child and ignite their imagination as this bath toy magically glides through the water, turning everyday baths into a fun-filled, marine escapade, encouraging priceless parent-child interaction and nurturing an appreciation for sea life.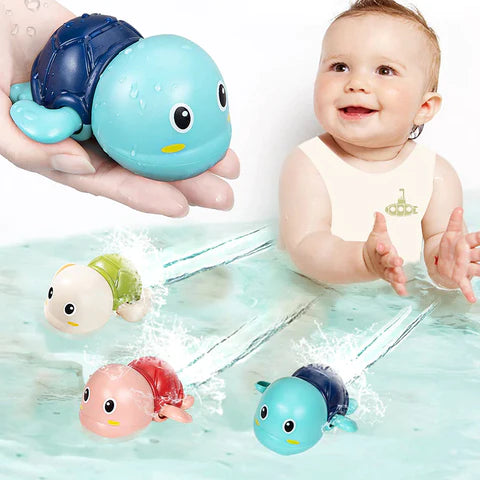 Dive into Bath Time Fun
Wave goodbye to the days of struggling to get your kids into the bath. With SplashFriends, your child will eagerly anticipate their next aquatic journey with these delightful companions.
As parents, you'll cherish the precious memories created during these shared bath time moments, while also appreciating the ease with which you can keep your little ones engaged and clean.
Kid-Friendly, Durable & Hygienic Bath Time Pals
Our Swimming Turtles Bath Toy is designed to be both durable and safe for your child. The easy-to-use wind-up mechanism ensures that your child can independently operate their new bath buddies, boosting their confidence and motor skills.
Our Swimming Turtles' clever water outlets prevent mold and mildew, ensuring a clean, hygienic bath time buddy for your child to adore.
DETAILS
Wind-up mechanism
Mold preventive and hygienic bath toy
3 pack set includes: 3x turtles in pink, blue and green
6 pack set includes: 3x turtles in pink, blue and green, 3x whales in pink, blue and light blue
Can be used in bathtubs, pools, or outdoor water play