Description
"I purchased this skin scrubber because I know someone who has the same one and loves it. She has used it a couple times a week for a few months and her skin is noticeably MUCH nicer and smoother. I'm not sure why it works so well, but it basically removes the outer layers of dead skin cells and improves the appearance of the skin. It really does help large pores and acne vanish over time."
– Anna Verified Buyer
Getting ready for an event or meeting someone special requires a flawless appearance, but facial impurities make it challenging. However, pollution and poor lifestyle habits cause facial impurities, like skin blemishes or clogged pores, resulting in a dull skin tone. Struggling with various facial impurities leads to frustration, low confidence, disappointment, and low self-esteem.
Introducing StarSkin, an innovative facial skin scrubber that gives a more profound and compelling skincare experience! Each StarSkin uses ultrasound technology to gently exfoliate dead skin cells and pollutants, resulting in smoother skin. Experience the pleasures of a refreshing skin tone that preserves and beautifies skin!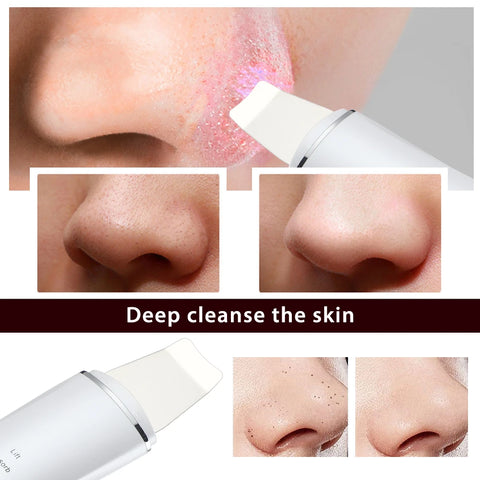 REASONS WHY AWAKENEX WILL CHANGE YOUR LIFE
Customizable Vibration: There are low, medium, and high vibration levels to meet the needs of treating the skin. As a result, StarSkin can smooth everything from sensitive skin to oily or acne-prone skin.
Different Modes

: 4 modes, such as cleaning, lifting, ion+, and ion- are available for treating various skin problems. Therefore, StarSkin

enhances

the appearance and

overall health

of the skin.
Swapable Heads: 4 interchangeable heads, including cleansing, exfoliating, lifting, and message heads, meet various skincare needs. Hence, StarSkinTM's adaptability makes skincare easy.
High-Tech: Using ultrasonic technology helps eliminate pollutants and dead skin cells. As a result, StarSkin smoothes

, firms, and

rejuvenates

the skin.
We understand how insecure we feel when we lack confidence in our facial appearance daily. It might be frustrating to devote a great deal of effort to skincare and continue to test new products, yet the facial spot persists. According to the National Retail Federation, the average American woman spends roughly $115 per month on makeup and aesthetic services.
With the StarSkin, take a deep breath and sigh with relief to no longer face skin blemishes and other impurities! The StarSkin, smooths the skin's surface and stimulates blood flow and collagen production for a youthful appearance. Enjoy newfound confidence with a skin scrubber that improves skin structure and unclogs pores.