SHOW YOUR PATRIOTIC PRIDE WITH THE AMERICAN EAGLE WREATH.
OVER 12,000 SATISFIED CUSTOMERS.
 MADE IN USA!

🇺🇸 Show off your pride for all things American with the exquisite American Eagle Wreath. Handcrafted from precision-cut polystyrene foam, it is the perfect embodiment of Old Glory portrayed in red white blue colors.
Stop your search and put this wreath in your living room as a door, window, or wall decoration to add some personality to your home. You could also give it as a gift to friends and family.
This lovely American eagle wreath delights anyone who loves this great country, so keep it up year-round and don't only display the wreath in July!
The American eagle wreath comes in white, blue, and red colors, making this hanging compatible with several colors in your house. It looks great on white or wood walls in your home.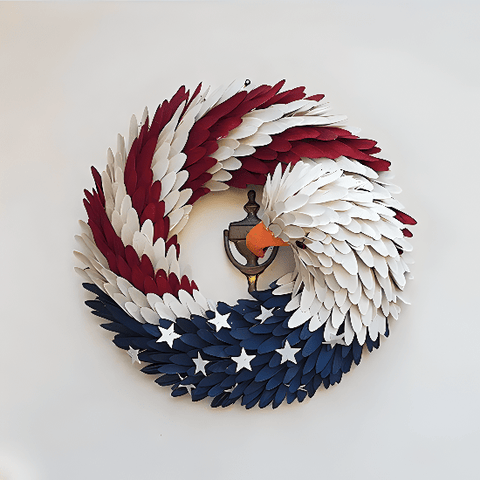 AMERICAN EAGLE WREATH FEATURES:
🇺🇸 Exquisite workmanship.
🇺🇸 Windproof & rainproof.
🇺🇸 Fits perfectly on any front door or storm door.
🇺🇸 30-day Guarantee.
🇺🇸 Free shipping.
🇺🇸 Made in the USA!
Remember the old days of patriotic glory? Now you can show your love for America with this American Eagle Wreath. This decoration will look great on your door, wall, or mantelpiece year-round.
Handcrafted with care, it's as elegant, unique, and festive as it is patriotic; created from 100% eco-friendly waterproof materials; and shipped for free to your house in under a week. This eagle wreath is the perfect way to show your pride for our nation's flag and independence day. It is made to last for years.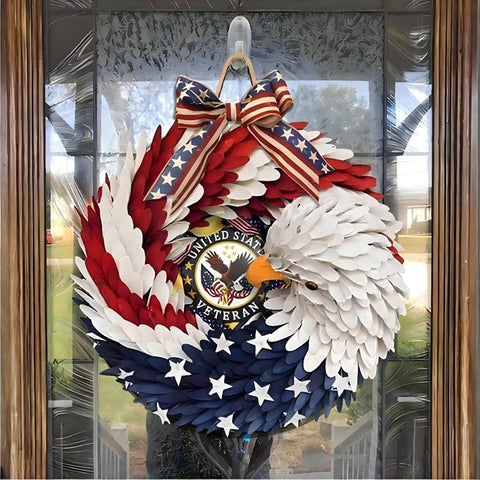 The American Eagle Wreath symbolizes patriotism and pride for the independence that Americans celebrate every July. It is made up of distinct elements, including the bald eagle and the American flag colors: blue, red, white, and the stars.
The wreath was designed to honor those who have served in the military and bring us together to show support for our country. Buying an American eagle wreath shows your loyalty to our country. 
There are many benefits to hanging an American Eagle door wreath in your house. The wreath adds beauty and elegance to your home and has a unique style that lets your friends and neighbors know you're supporting American businesses and jobs.
SPECIAL OFFER: BUY 2 WREATHS AND SAVE 15% 
We love our freedom. And this American eagle wreath is the ultimate representation of our independence day. When you buy this item, you will be making your home entrance elegant and unique with a blue eagle wreath. 
There is a full pre-assembled version of the Independence Day wreath and an American eagle wreath kit for people keen on DIY. The kit comes with the same red, white, and blue decor that our standard wreath does. Choose either an unassembled or preassembled American eagle wreath and save money by buying two or more American eagle wreaths to hang on your door today! 
FAQ:
1. Is it durable? How long does the eagle wreath last?
- The American eagle wreath can withstands the test of time; To prolong the wreath lifespan display, it is on a covered porch.
2. When will my wreath arrive? Is the shipping free?
- Shipping is free. Delivery timeframes are currently 10 to 14 days from the date of order. You will receive a tracking number for your American eagle wreath order. We offer free shipping for all things we sell for you so why wait; add this wreath to your cart now!
3. Is the Eagle Wreath pre-assembled?
- Yes. However, if you prefer the American Eagle Wreath kit version, press the "DIY kit" button. The DIY blue eagle wreath version comes unassembled with printed instructions and easy step to learn.
4. Will the discount be applied if I buy 2 or more?
- Yes, check out with 2 or more items, and the 15% discount will be applied, making you save money buying a door window wall decoration.
5. Does the veteran medallion come with the wreath?
- No, the package only includes the Eagle Wreath.
6. What material is it made of?
- Polystyrene; water- and weatherproof. However, you should keep your American eagle wreath inside during extreme weather conditions like storms or heat waves.
   7. Does it go out of style?
-The American eagle wreath trends on July, which is Independence day, but the door wreath never goes out of style.
  8. The size details?
-The size of the blue wreath is included in the details listing. Buy an American eagle wreath that fits your door.
LIMITED STOCK. NOT SOLD IN STORES.