Retrobox TV Phone Holder is actually a phone holder and screen magnifier that looks like a Retro TV. The re-vamp of our retro TV phone holder offers the same great image quality, but now you can view your Netflix marathons and cute animal YouTube videos even larger than before.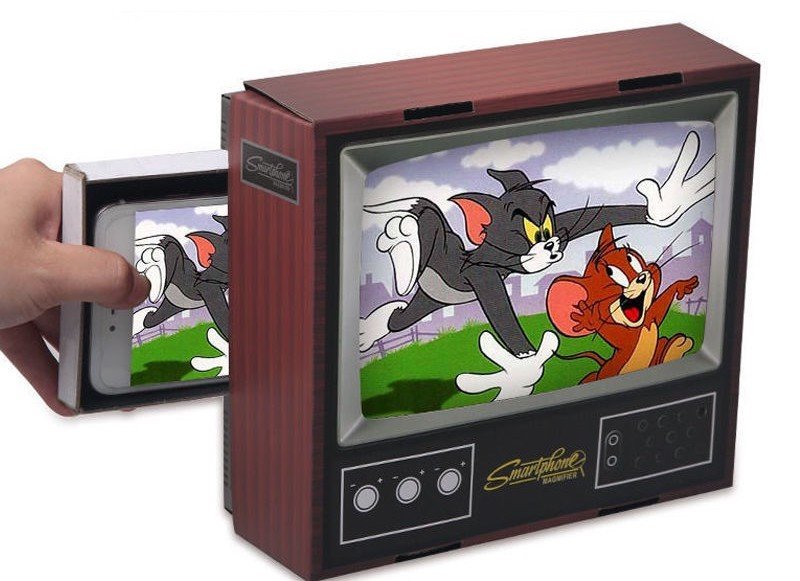 Simply load your content, place your phone into the back of the retro phone stand, and enjoy. Perfect for lazy Sundays, kitchen recipe following, and anything else that's been causing you to squint at your tiny phone screen!
Features
RETRO STYLED TV DESIGN – Our Retro TV phone magnifier has a unique retro tv design. You'll have the feeling of being back in the 60's and 70's when watching your favorite movies and tv shows on the vintage tv.
EFFORTLESS RAPID SETUP – The RetroBox™ is extremely easy to use. Just place your mobile device in the slot at the back, line it up with the phone stand's magnifying screen, and enjoy the show.
LARGE 8 INCH SCREEN –  you'll be able to enjoy your favorite movies and games in a fun and unique way with up to 2X magnification!
HELPS REDUCE EYE STRAIN – Using your phone's small screen for long periods of time can cause serious eye strain. With The RetroBox™, you can sit back and watch your shows in comfort.
GREAT LITTLE TRAVEL COMPANION – The RetroBox™ is extremely lightweight and easy to take with you. It's the perfect hands-free way to enjoy games, movies, and shows on your phone when on the go.