-
🌞ENVISION THIS…
There's a large pile of snow next to your window, and an elegant glass case in your warm living room, filled to the very top with plants, and they're thriving! Each of your plants has its personal light source, keep reading to find out how your indoor jungle will thrive this winter with ThePlantHalo 2.0…
WHY THEPLANTHALO 2.0 IS BETTER FOR YOU:
Your Plants Will NEVER Need Natural Sunlight Ever Again.
ThePlantHalo 2.0 was found to be around 20% more effective than ThePlantHalo 1.0, resulting in a boost of plant growth by 50%! Your plants will never need natural sunlight again. Guaranteed.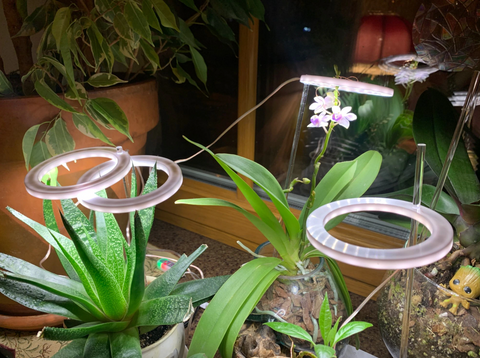 Here's theplanthalo 2.0 growing some lucky houseplants!
50,000 Hours Of Light? How About 80,000.
Buy theplanthalo 2.0 ONCE, and you'll be set for quite a long time, the only reason you'll return to our website is to buy more for your other shelf.
The Most Convenient Houseplant-growing Solution on the Market.
The plants in your bathroom & bookshelf don't ever get enough sunlight, don't spend hours of your valuable time setting up industrial-sized grow lights, just to make your plant display uglier, simply stick theplanthalo into your plants' dirt, and your plants are set for a long, long time.
THE FACTS:
WHICH COLOR DO I NEED?
We've added a color and adjusted some of the existing ones since 1.0, here's a guide to help you understand which color is best for you.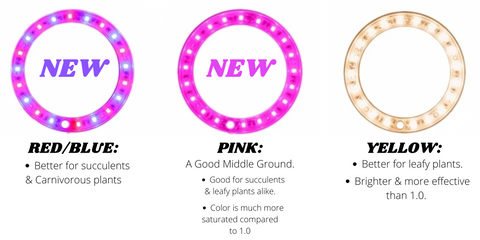 HOW TO USE YOUR PLANTHALO 2.0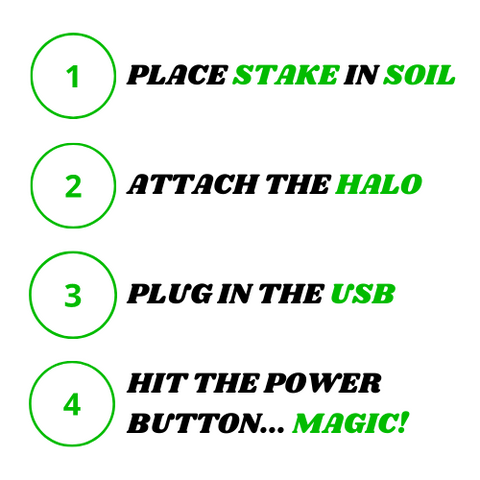 -
THE ULTIMATE COMPARISON: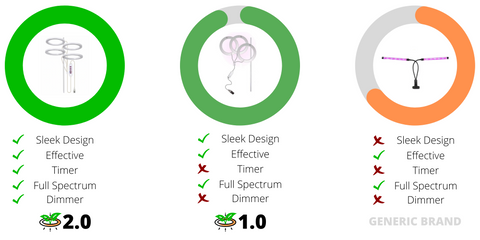 THE SPECIFICATIONS:
Lumens: 2000lm /sqft
PPFD: 600 - 1200

CRI: 92

Halo Diameter: ~4 Inches

Wattage: 20 Watt

Color Spectrum: Full Spectrum LED

Lifetime: 80,000 Hrs (approx)

Power Source: 

USB

Full Spectrum
40% OFF - THIS WEEK ONLY!
To celebrate the launch of theplanthalo 2.0, we are running a 40% OFF discount for only a week! All you have to do to claim your discount is scroll up and hit that "Add to Cart" button.
STILL NOT SURE? CHECK OUT THESE REVIEWS!